Road Force Balancer
Hunter's Road Force Balancer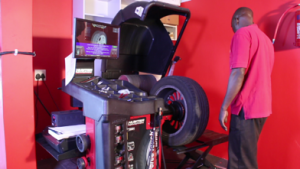 At Wangara Tire & Fitment Center, we use the most effective and efficient Road Force Balancing System: Hunter's Road Force Touch GSP9700. This machine solves wheel vibration problems that balancing alone cannot fix. The GSP9700 can quickly troubleshoot and repair problems by calculating the contributions that the rim and tire make to radial vibration problems. Also, the StraightTrack LFM feature identifies potential vehicle pull or drift problems by measuring the lateral tire force.
The Hunter Road Force Touch GSP9700 is endorsed and recommended by vehicle manufacturers the world over. It has set the industry standard for equipment used in wheel balancing, tire road force and rim eccentricity measurement, and tire pull lateral force management.  Once balancing is done, it prints out the results of the work done.
One important fact, Wangara is the only tyre shop in Namibia with this advanced technology machine.