Mobile Alignment
Wheel Alignment for Trucks and Commercial Vehicles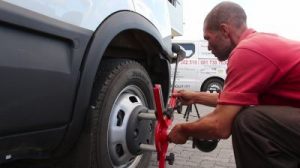 Wangara Tyre & Fitment Center is the leading on-site alignment company for the commercial trucking industry in Namibia. We offer commercial tyres, mobile Laser Wheel Alignment, wheel balancing, batteries and many more to operators of large fleets and trucking companies.  The many commercial alignments that we provide are done on the customer's site which saves your time and money.  There is never a need for you to go through town looking for alignment service, we come to you.
Correct wheel alignment saves on fuel costs (up to 10%) and increases tyre life by up to 25%. It also improves ride and driver comfort.
Wangara Alignment Procedures for Trucks & Buses
The vehicle is driven onto turning plates, so no lifting is needed.
Accurate – all measurements taken in the driving position.
Laser heads are magnetically mounted and there is a quick
clamping device for alloy rims.
Quick and accurate measurement of toe, camber, caster, KPI
and axle offset.
As you can see, this is a high tech way of aligning your trucks and buses, why go anywhere else?