Brakes Services & Repairs
Brake Services & Repair in Windhoek
Speak to the experts…Wangara Tyre & Fitment Center!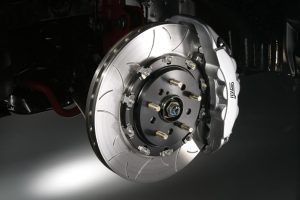 Your vehicle brakes are the most important safety-critical system fitted to your vehicle and it is essential that they are inspected regularly to ensure they remain in good working order. If your brakes are making any kind of noise like squeaks, grinding or rubbing of any kind they need to be looked at right away.  In addition, if you feel vibrations when you step on the brake peddle, it's time to bring your car to Wangara Tyre & Fitment Center. Neglecting these tell signs of trouble can cause extra damages to your vehicle.
Wangara has access to thousands of brake parts including pads, discs, drums, shoes, calipers, cylinders, hoses and cables.
At Wangara, we are committed to keeping your costs as low as possible and keeping you safe on the road.
Book an Appointment at Wangara Tyre & Fitment Center, Prosperia for a detailed brake safety inspection. Our fully trained technicians will check the shoes, drums, cylinders and brake fluid of your vehicle.
Alternatively book a FREE visual safety inspection here.
Identifying Brake Service problems
Squeaking, grinding, strange vibrations when you press the brake peddle – This can mean that your brake pads are worn down too far and you have metal touching metal. The way brakes work, is that the brake material that is on the brake pad is what creates the most effective stopping power. Each time you stop or slow down the brakes are slowly wearing the brake material away. With the brake material gone, friction and heat are increased which prevents the brake pad from gripping the rotor properly. This causes the vehicle to stop faster. So, the hotter the pads and rotors get, the slipperier they become. This situation seriously affects the safety of your vehicle and can put your family at great risk.
If you let your brakes wear down too far you're at risk of destroying the caliper. Caliper is what does the squeezing of your brake pads to the brake rotors. If this piece is too damaged, the brakes will not work properly. Caliper is also expensive to fix. So apart from the compromise to the safety of your vehicle, you will spend much more to fix the caliper than if you just fixed your brake pads or rotors.
There are times when your brakes seem to work fine when you touch the brake peddle, but your brake pads might be reaching their end of life. It is at this time when you replace your brake components. Replacing the brake components at this time is so much cheaper to repair and you ensure that your vehicle is safe.
Brake System Inspection
Wangara Tyre & Fitment Center, if requested, can measure the thickness of your brake pad and tell you if your brakes are still functioning correctly. There is a set safety standard measurement set by the industry experts we go by when we tell you it is time to replace your pads. Wangara also takes a picture of the part to be replaced or keep the part so you can see for yourself to reassure you that we are not recommending anything that is not going to keep you safe and save you money.
At Wangara Tyre & Fitment Center, we also do comprehensive inspection with all of our service packages. So every time you come in you know exactly the condition of all your car's essential systems and can drive away feeling confident that everything is in good working order or have a prioritized list of what will need to be tackled and when.
Manufacturer Warranty Remember, brakes are not usually covered by manufacturers warranties. So if you have a new car that still has it's dealer warranties, regular wear and tear on your brakes is not something they cover. Save yourself some money, bring your car to us for all the service that is not covered by warranty, it will not affect the warranty with the dealer and it will dramatically save you money. Plus, when your car is no longer covered by a dealer warranty you already have a relationship with a great Fitment Center that knows you and your car.
When you bring your vehicle to Wangara Tyre and Fitment Center even for regular service, your brakes are so important to your safety that we do a full inspection and check them every time.
Our technicians have over 20 years experience and we use good quality parts so you can be assured that you and your family is safe and your car will perform the way you want.
Other signs of faulty Brakes
If you can hear unusual noises when you press the brake pedal
If your steering wheel vibrates when slowing
If your brakes feel too hard or too spongy
If the vehicle pulls to one side when braking