Brake Fluid Flush
Brake Fluid Flush in Windhoek- Every 40,000 km or 2 Years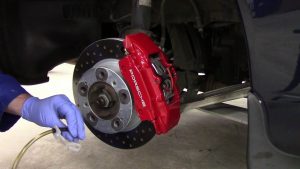 The brake fluid system of a vehicle is designed to transfer pressure from the brake pedal to the hydraulic pressure which is used to compress brake components.
Brake fluid flush removes corrosive metals from the brake system.
Brake fluid is hydroscopic – it absorbs moisture, and moisture destroys brake parts which are costly.
With moisture brake fluid boils at lower temperatures, affecting braking.
Changing the brake fluid is much less expensive that replacing a damaged brake part.
Having a brake fluid flush every 2 years or 50,000 km will help ensure that your braking system lives a long and healthy life, providing you with optimum braking power, reliability and safety. And with our value pricing and quick servicing, we get you back on the road quickly at a great price!