About Us
ABOUT US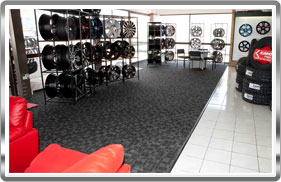 Wangara Tyre & Fitment Center is a subsidiary of Wangara Motor Spares that was established by four dynamic previously disadvantaged Namibian women. These remarkable women invested in industry leading equipments to offer safe, quick and affordable tyre fitment services and products ensuring maximum tyre life and fleet efficiency. Our customers can be rest assured that they and their families' safety is our first priority.
The company is founded on a strategic vision of being a one-stop destination for all tyre needs and is well integrated towards this end. We are a professionally managed organization with excellent reputation for maintaining highest degree of business ethics and customer care.  Our team is made up of experienced and qualified technicians who are well trained as well as a professional customer support personnel. We undertake to always be up-to-date on the latest research and development in the field of auto fitment technology.
We listen to our customers and are proud that we have been able to create a business that has been shaped by our customers' feedback and ongoing support. Furthermore, we shall leave no stone unturned to ensure that the enterprise remains in complete compliance with global standards of quality. With our commitment to service excellence, convenience, attention to details and our flexible working hours you will find no better place than Wangara Tyre & Fitment Center – A ONE STOP TYRE SHOP.